Design and Well-being
Good design contributes to human well-being. Ergonomic design studies human behavior and anatomy to make products easier to use. Universal design aims to make products, environments, and content accessible to everyone. Human-centered design explores people's needs and wants in order to enhance well-being. Over time, Cooper Hewitt, Smithsonian Design Museum has documented design for better health through a range of exhibitions, publications, collections, and educational programs.
Above: Fields of Tranquility, an installation by Sahil Bagga (Indian, born 1978) and Sarthak Sengupta (Indian, born 1979), Sahil & Sarthak Design (New Delhi, India), featured in the exhibition Design and Healing: Creative Responses to Epidemics.
Exhibitions
Design and Healing: Creative Responses to Epidemics
December 10, 2022–February 20, 2023
This exhibition, curated by MASS Design Group and Cooper Hewitt, Smithsonian Design Museum, was organized as the COVID-19 pandemic began to unfold. Designers, architects, artists, doctors, engineers, and neighbors asked, "How can I help?"
Wyss Institute Selects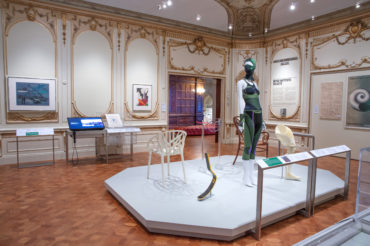 July 12, 2019–March 29, 2020
Founded in 2009, the Wyss Institute for Biologically Inspired Engineering at Harvard University is a world leader in biodesign engineering. For this exhibition, scientists at the Wyss Institute conceived of the theme of Biofuturism and selected works from the museum's collection to describe the progression of ideas, objects, visions, and collaborations throughout history that culminated in this new approach to Design Science.
Access + Ability
December 15, 2017–September 3, 2018
From low-tech products that assist with daily routines to the newest technologies, the exhibition explores how users and designers are expanding and adapting accessible products and solutions in ways previously unimaginable.
Beautiful Users
December 12, 2014–April 26, 2015
This exhibition explores the changing relationship between designers and users, including the invention of ergonomics, which sought to fit products to people, not people to products. Designers have approached users in various ways: as ideal or normative types; as consumers to be observed, measured, and even manipulated; and as active partners in the design process.
Publications
The Architecture of Health
2021
Reading architecture through the history of hospitals offers a tool for unlocking the elemental principles of architecture and the intractable laws of human and social conditions that architecture serves in each of our lives. This book encounters brilliant and visionary designers who were hospital architects but also systems designers, driven by the aim of social change.
Health Design Thinking, 2nd Edition
2022
As health care systems around the globe struggle to expand access, improve outcomes, and control costs, Health Design Thinking, second edition, offers a new approach for designing dynamic, responsive health care products and services. This practice-based guide applies design thinking to real-world health care challenges, and ideas that accelerated during the COVID-19 pandemic.
Enwheeled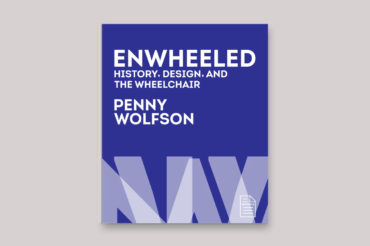 2017
This book highlights key moments in the advances of prosthetic technologies, particularly the Civil War and World War II and the disability rights movement of the 1960s and '70s. Author Penny Wolfson considers the multi-faceted relationship of user and chair and the evolving identities of people who use wheelchairs in their daily lives.
Beautiful Users: Designing for People
2014
This book provides case studies and essays about different approaches to user-centered design, from ergonomics and universal design to participatory co-design. It is available to download as a PDF.
Resources and Programs
Design Access
Cooper Hewitt is committed to broadening its audiences and ensuring the museum is welcoming to all. Learn how we are using our exhibitions, campus, and museum resources to raise awareness of accessible design innovation, inspire dialogue, and leverage Cooper Hewitt's role as a platform for design to promote problem-solving in support of inclusivity.
Designing on the Front Lines, Season 2
2022
In this virtual forum, designers and doctors talk about designing better services, PPE, public spaces, and more in the age of COVID-19. Presented by the Health Design Lab at Thomas Jefferson University and Cooper Hewitt, Smithsonian Design Museum. Three sessions were recorded in spring 2022, looking back at the ongoing pandemic.
Designing on the Front Lines, Season 1
2020
Twelve live sessions were recorded during Summer 2020. In each episode, doctors, nurses, designers, architects, and other professionals discuss design as a weapon against COVID-19. Topics discussed include designing medical devices and PPE, addressing racism's role in the pandemic, redesigning patient rooms and emergency departments, and creating new rituals for death and grieving.
Designing Equitable Healthy Cities
2020
As the US simultaneously faces a global pandemic and a crucial movement for racial equity, designers must consider: what is the responsibility of design in facilitating lasting change? This online conversation examines the role of design in creating healthier and more equitable cities and consider how designers must respond to the effects of COVID-19 and systemic racism.
2021 Design Challenge
What would you design to create a healthier world?
Cooper Hewitt's 2021 National High School Design Competition challenged high school students around the country to respond to the pandemic, especially as it disproportionately affects marginalized communities, and reimagine the life of tomorrow by rethinking our products, environments, services, and systems.