Give Me a Sign: The Language of Symbols
ON VIEW THROUGH SEPTEMBER 2, 2024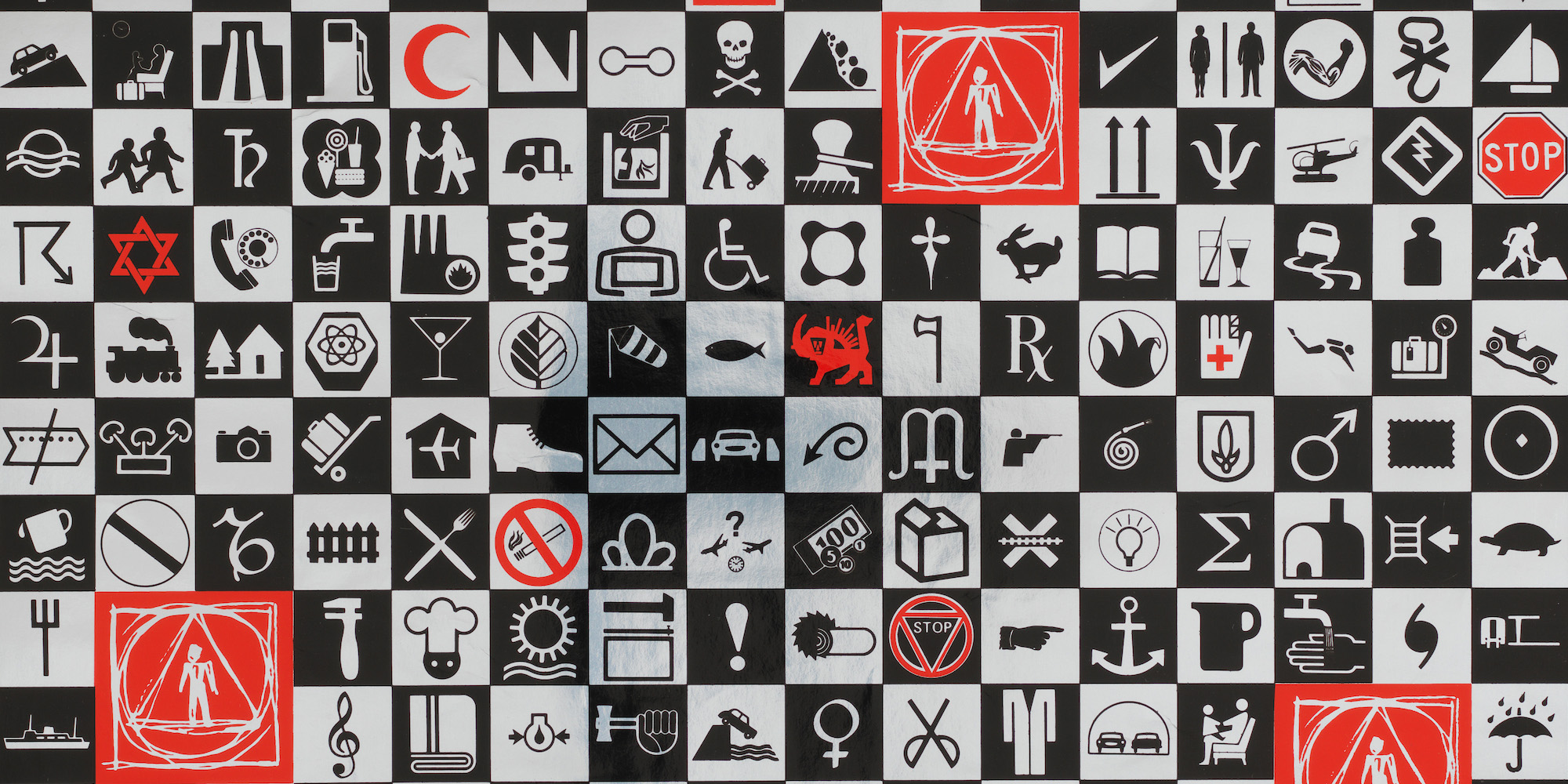 Give Me a Sign demonstrates how symbol design is a dynamic and collaborative effort through which individuals and communities have created, adopted, and redesigned symbols over time. Visitors are invited to discover the history behind many symbols and participate in creative activities in-gallery and online to co-create a Symbol Sourcebook of 2024.
Learn more about Give Me a Sign →
Immersion Room
ongoing
Cooper Hewitt's extraordinary collection of wallcoverings is featured in the Immersion Room. Visitors are invited to select digital images of wallpapers or sketch their own design and then project them onto the walls at full scale to see their impact.
A DARK, A LIGHT, A BRIGHT: THE DESIGNS OF DOROTHY LIEBES
On View through February 4, 2024
American textile designer, weaver, and color authority Dorothy Liebes (1897–1972) had a profound influence across design fields, helping to shape American tastes in areas from interiors and transportation to industrial design, fashion, and film. This exhibition reveals the scope of her achievements and adds a new thread to the story of mid-century modernism.
EXHIBITION SUPPORTERS
Give Me a Sign: The Language of Symbols is made possible with generous support from the Marks Family Foundation Endowment Fund.
The Immersion Room is made possible by major support from Amita and Purnendu Chatterjee.
Digital Experience supported by Bloomberg Philanthropies.
A Dark, A Light, A Bright: The Designs of Dorothy Liebes is made possible by The Coby Foundation; The Decorative Arts Trust; the Smithsonian American Women's History Initiative, a program of the Smithsonian American Women's History Museum; and the Terra Foundation for American Art.
The project received Federal support from the Smithsonian Collections Care and Preservation Fund, administered by the National Collections Program and the Smithsonian Collections Advisory Committee.
Generous support is provided by the Lily Auchincloss Foundation; the Lenore G. Tawney Foundation; Mergentime Family Archive; and the Samuel H. Kress Foundation, administered by the Foundation for Advancement in Conservation.
Support is also provided by Elizabeth Whelan, The Josef and Anni Albers Foundation, and Patsy Orlofsky.