Accessibility at Cooper Hewitt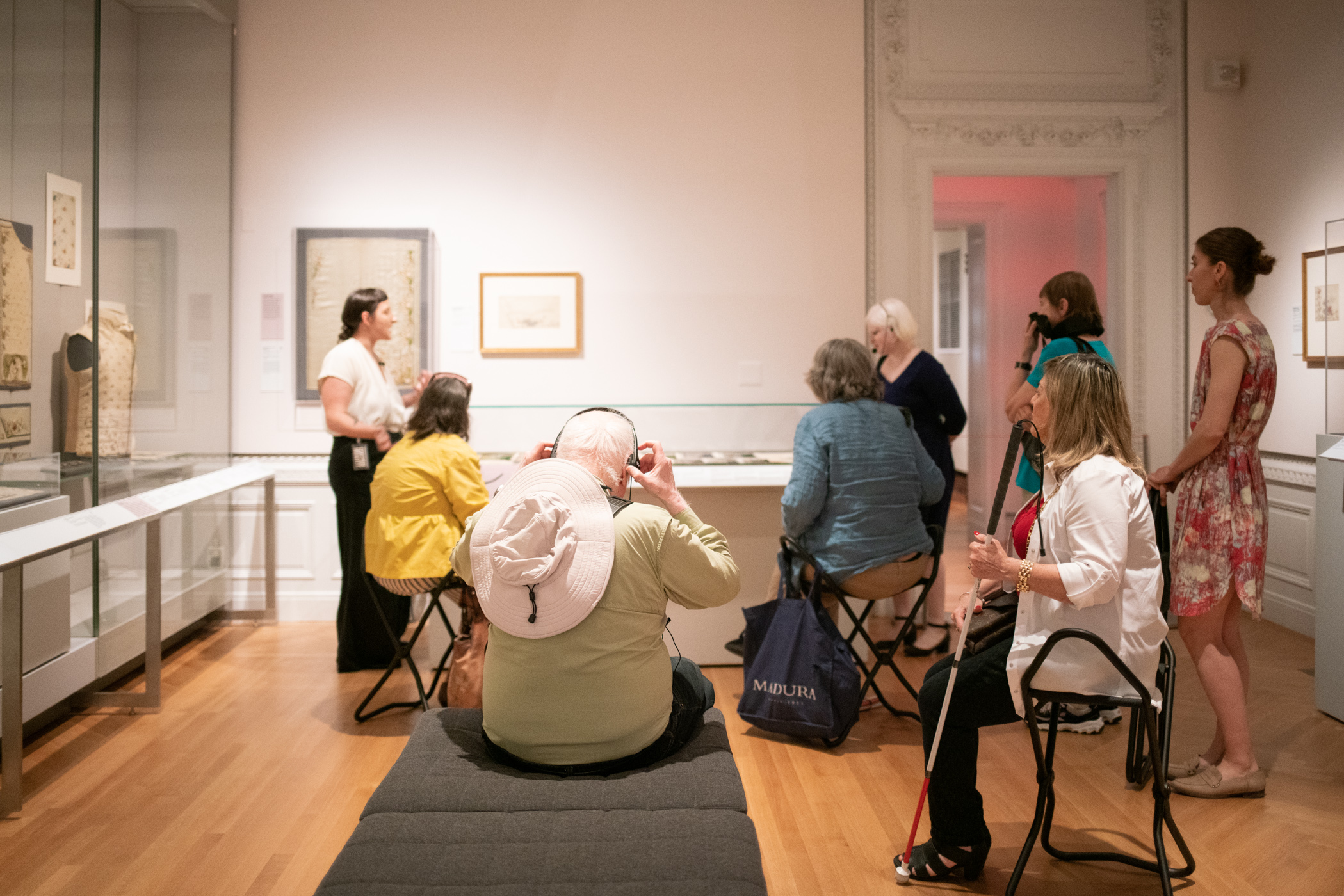 Cooper Hewitt offers a variety of services for visitors with disabilities. An access ramp is located at the museum's front entrance and an elevator is available to the main lobby. In the Great Hall, our Visitor Experience team is available to answer any questions about accessibility. Visitors may also email the museum or call 212.849.2950.
A personal care attendant accompanying a visitor will also need a free timed-entry pass.
Discounted memberships are also available.
Below are details about accessing Cooper Hewitt and available programs.
Traveling to Cooper Hewitt
The museum is located at 2 East 91st Street between Fifth and Madison Avenues in New York City. The Metropolitan Transportation Authority (MTA) offers reduced fares on its subways, buses, and commuter railroads to customers with disabilities.
By bus:
Uptown: M1, M2, M3, M4 to Fifth Avenue and 90th or 92nd Streets.
Downtown: M1, M2, M3, M4 to Madison and 91st Street.
Crosstown: M96 to Madison and 94th Street.
By subway:
4,5,6 trains to 86th and Lexington Avenue
Q train to 86th and Second Avenue (Elevator on southeast corner of 86th Street and 2nd Avenue.)
Consult The MTA Guide to Accessible Transit for information about reduced fare programs, accessible stations, large print maps, and a variety of other ADA-accessible services MTA agencies provide.
There are several private parking garages located close to Cooper Hewitt.
Champion Parking
60 East 90th Street,between Madison and Park
($53 flat rate for the day, $25 with a Cooper Hewitt membership)
Impark
40 East 89th Street (between Madison and Park)
$50 flat rate for the day
Visitors with limited mobility
The main entrance to Cooper Hewitt is an accessible path.
Inside the museum, a passenger elevator brings visitors to all four floors of galleries. Standard manual wheelchairs and portable stools are available free of charge on a first-come, first-serve basis at our coat check, located immediately to the right of the museum's East 91st Street entrance. All of Cooper Hewitt's restrooms are wheelchair accessible. Download and print a map of the museum and its entrances.
Visitors who are deaf or hard of hearing
To place a request for additional services,  email the museum or call 212.849.2950. This service is free of charge.
visitors with vision loss
Large-print labels are available at the Visitor Experience desk and also can be downloaded from each exhibitions' page on our website. Audio description is provided for all exhibition videos.
sensory map and social narrative
Download, print, and read the social narrative (PDF) about visiting the Museum. This will help prepare you for the visit and will cover important things to remember, such as Museum rules.  Some spaces in the museum are quieter and less crowded and others that are overly stimulating— find out more in the Sensory Map.
Public Tours
As a public health precaution, all Cooper Hewitt tours are cancelled until further notice.
Service dogs
All service dogs are welcome.
Education programs
Cooper Hewitt provides regularly scheduled educational opportunities for individuals with disabilities including sensory tours and design workshops. Find out more about upcoming programs for visitors with disabilities.
alternative format of cooper hewitt publications
If you are a student or instructor with a disability that requires an alternative format for a Cooper Hewitt publication, please reach out to CHAccess@si.edu to submit a request.
Please note, only PDF files are currently available. The publication requested must be used for classroom/course use. Please share any additional specifications needed in your request.
Inclusive Design Resources
Learn how we are using the galleries and museum resources to raise awareness of accessible design innovation, inspire dialogue, and leverage Cooper Hewitt's role as a dynamic design hub to promote problem-solving in support of inclusivity.