Accessibility at Cooper Hewitt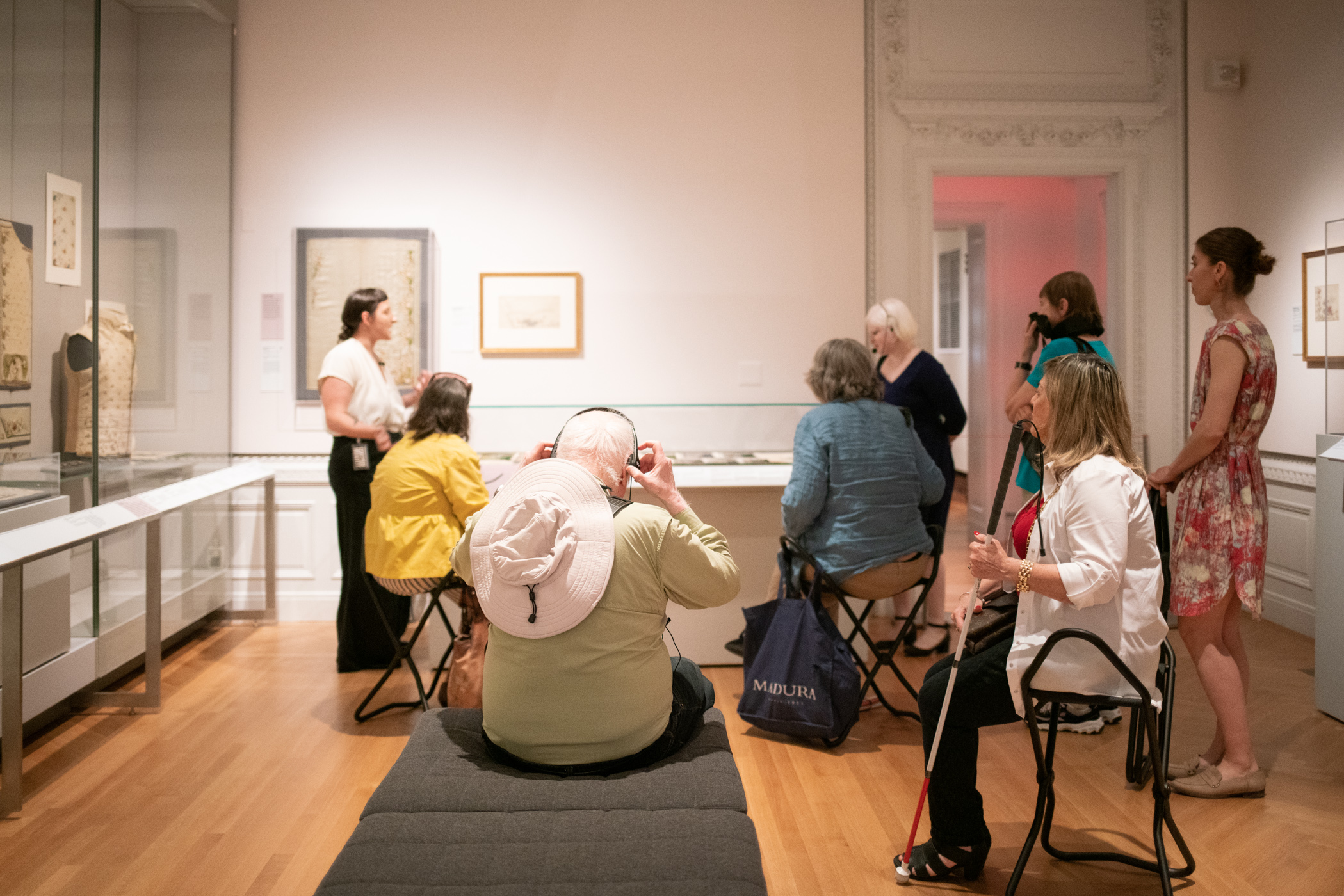 Cooper Hewitt offers a variety of services for visitors with disabilities. In the Great Hall, our Visitor Experience team is available at the Visitor Experience desk to answer any questions about accessibility. Visitors may also email Accessibility & Inclusion Manager Kirsten Sweeney at CHAccess@si.edu or call 212.849.2950.
Below are details about accessing Cooper Hewitt and available programs.
Preparing For Your Visit
Discounted tickets are available for visitors with disabilities, and free tickets are available for caregivers/personal care attendants accompanying a visitor. No ID or special documentation is required to purchase a disability ticket. You can purchase tickets online or at the Museum.
Discounted memberships are also available.
You can read our Social Narrative for a step-by-step guide about visiting the Museum. Sensory environments are labeled on our Sensory Map.
Traveling to Cooper Hewitt
The museum is located at 2 East 91st Street between Fifth and Madison Avenues in New York City. The Metropolitan Transportation Authority (MTA) offers reduced fares on its subways, buses, and commuter railroads to customers with disabilities. Consult The MTA Guide to Accessible Transit for information about reduced fare programs, accessible stations, large print maps, and a variety of other ADA-accessible services MTA agencies provide.
By bus:
Uptown: M1, M2, M3, M4 to Fifth Avenue and 90th or 92nd Streets.
Downtown: M1, M2, M3, M4 to Madison and 91st Street.
Crosstown: M96 to Madison and 94th Street.
By subway:
4,5,6 trains to 86th and Lexington Avenue
Q train to 86th and Second Avenue (Elevator on southeast corner of 86th Street and 2nd Avenue.)
There are several private parking garages located close to Cooper Hewitt.
Champion Parking
60 East 90th Street,between Madison and Park
($53 flat rate for the day, $25 with a Cooper Hewitt membership)
Impark
40 East 89th Street (between Madison and Park)
$50 flat rate for the day
Visiting the Museum
There are three wide, low steps up to the main entrance of Cooper Hewitt, as well as a ramp. Inside the Museum, all areas are accessible via elevator or stairs. There is a single stall accessible restroom located on the Ground Floor.
Service animals are welcome at the Museum.
Standard manual wheelchairs and portable stools are available free of charge on a first-come, first-served basis at coat check, located on your right when you enter the museum.
Large print labels are available in the galleries and can also be accessed online on the webpage for each current exhibition.
A verbal description audio tour, designed for blind and low vision visitors, is available in the galleries for Give Me A Sign: The Language of Symbols. A smartphone is needed to access this tour. Access the tour here.
Sensory support bags containing fidgets and foam earplugs are available at the Visitor Experience desk, along with ear defenders in adult and child sizes that you may borrow for the length of your visit, free of charge.
All exhibition videos feature open captioning and audio description.
Attending a Tour
Public tours are offered regularly and are free with museum admission. Most tours involve walking around the Museum and standing in galleries for extended periods of time; standard manual wheelchairs and portable stools are available for those who need them. Learn more about tours at Cooper Hewitt.
ASL interpretation is available by request for any Cooper Hewitt tour, free of charge. Please make your request at least one week prior to your visit. To request these services, email CHAccess@si.edu or call 212.849.2950.
Verbal Description Tours for blind and low vision audiences are offered virtually and in-person for select museum exhibitions. Upcoming tours:
A Dark, A Light, A Bright: The Designs of Dorothy Liebes
To sign up for the verbal description tour mailing list, email CHAccess@si.edu.
Education programs
Cooper Hewitt provides regularly scheduled tours and educational opportunities specifically designed for visitors with disabilities, including Verbal Description Tours and design workshops. Find out more about upcoming programs for visitors with disabilities.
alternative format of cooper hewitt publications
If you are a student or instructor with a disability that requires an alternative format for a Cooper Hewitt publication, please reach out to CHAccess@si.edu to submit a request.
The publication requested must be used for classroom/course use. Please share any additional specifications needed in your request.
Professional Resources
Cooper Hewitt has developed a number of resources to support museum staff and other professionals in developing a more inclusive and accessible practice. These include our Guidelines for Image Description and our Accessible Virtual Programming Toolkit. Visit our Design Access page for a full list of available resources.