Deconstructing Power: W. E. B. Du Bois at the 1900 World's Fair
On view December 9, 2022 through May 29, 2023
The 1900 Paris World's Fair trumpeted the possibilities of technological, aesthetic, social, and economic advancement to a global audience. The groundbreaking series of data visualizations W. E. B. Du Bois and his students at Atlanta University made for the installation, titled the "American Negro Exhibit," seized upon the narrative of progress projected by the fair to claim a place for Black Americans. These diagrams celebrated the social and economic uplift achieved by Black Americans since emancipation while critiquing the effects of institutionalized racism.
This exhibition highlights these significant data visualizations, on loan from the Library of Congress, and, for the first time, will bring them into dialogue with the manufacturers and decorative arts also on display at the fair. Through thematic groupings, the exhibition calls attention to how the progressive image of the fair was inequitable—reserved for the predominantly white, European artists, manufacturers, and audiences—and concealed the power mechanisms of nationalism and imperialism that drove this spectacle of progress.
Learn more about Deconstructing Power →
Deconstructing Power: W. E. B. Du Bois at the 1900 World's Fair is made possible with major support from Denise Littlefield Sobel. Additional support is provided by the Ehrenkranz Fund and The Felicia Fund.
A DARK, A LIGHT, A BRIGHT: THE DESIGNS OF DOROTHY LIEBES
On View July 7, 2023 through February 4, 2024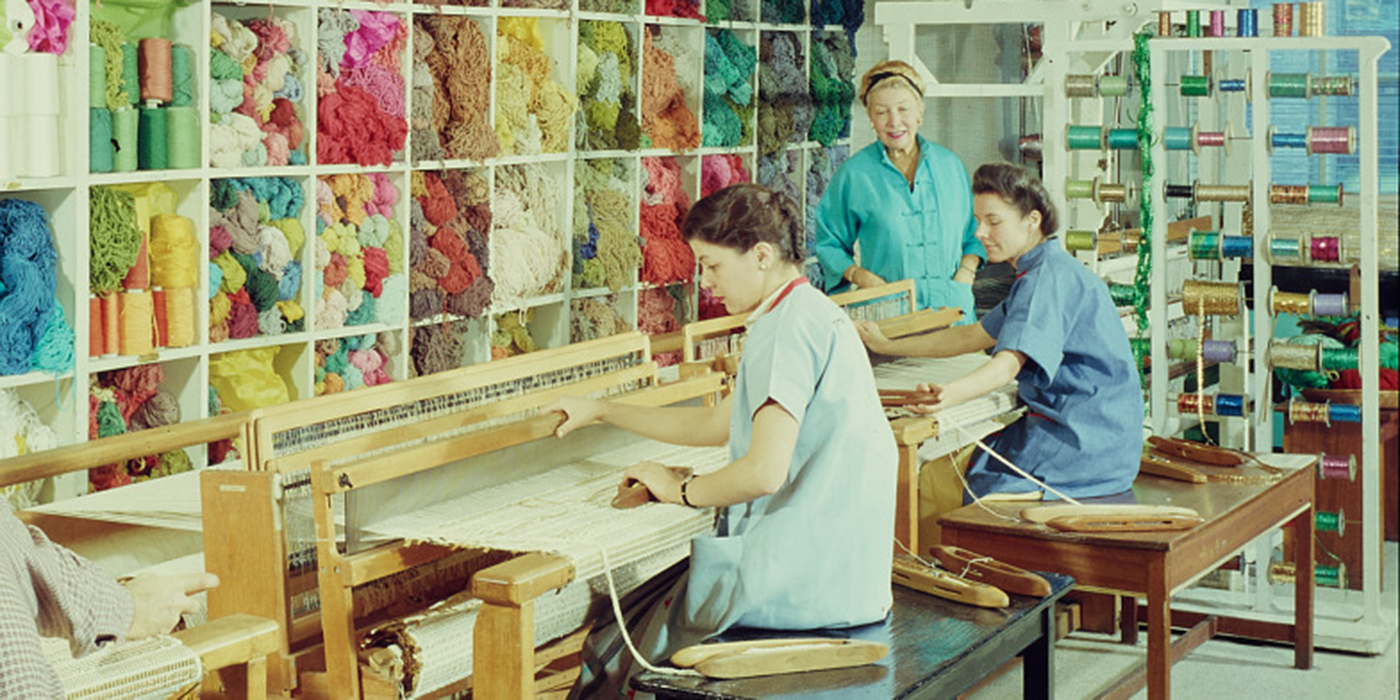 Designer and weaver Dorothy Liebes (1897–1972), who introduced handcraft and brilliant color to the modern interior, was among the most influential designers of the 20th century. The "Liebes Look"—which combined vivid color, lush texture, and often a glint of metallic—became inextricably linked with the American modern aesthetic. Liebes collaborated with the most prominent architects and designers of the mid-20th century, shaping American tastes in areas from interiors to transportation and industrial design, fashion, and film, and worked with dozens of U.S. firms to make her fabrics available at affordable prices. Despite widespread recognition during her lifetime, the details of her long and productive career are largely unknown. This exhibition will establish for the first time the full scope of her contributions as a designer, collaborator, mentor, public figure, and tireless promoter of American modernism.
A Dark, A Light, A Bright: The Designs of Dorothy Liebes is made possible with major support from The Coby Foundation, The Decorative Arts Trust, the Smithsonian American Women's History Initiative, and the Terra Foundation for American Art.
Generous support is provided by the Lily Auchincloss Foundation.
This project received Federal support from the Smithsonian Collections Care and Preservation Fund, administered by the National Collections Program and the Smithsonian Collections Advisory Committee. Support is also provided by Elizabeth Whelan, The Josef and Anni Albers Foundation, the Lenore G. Tawney Foundation, Mergentime Family Archive, and the Samuel H. Kress Foundation, administered by the Foundation for Advancement in Conservation.
Featured Image: Line drawing of the Carnegie Mansion